"Risks" for transparency? Louisville Metro Evaluates Information Sharing to Reduce Legal Payments | WDRB investigation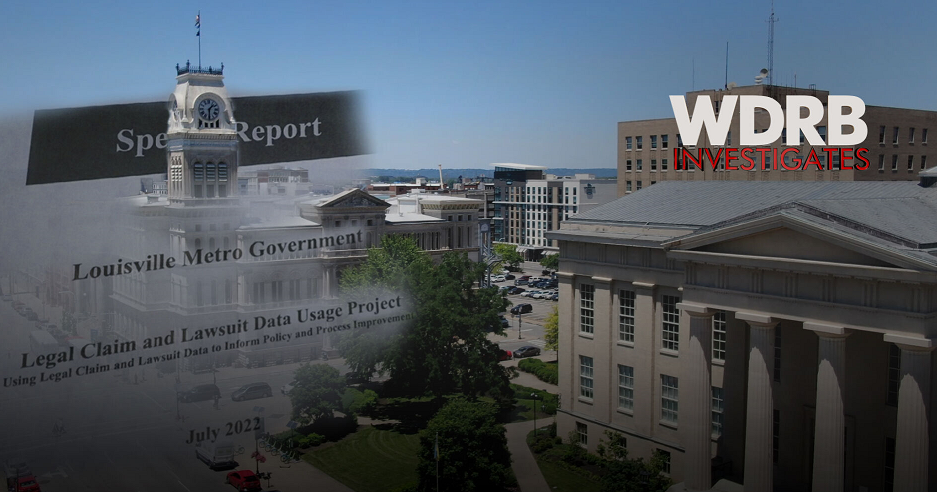 LOUSIVILLE, Ky. (WDRB) – As the Louisville Metro government seeks to rein in legal settlements that have cost taxpayers tens of millions of dollars in recent years – everything from wrongful deaths at the hands of police to discrimination in employment – the 22 metro department heads say having more information about the claims against the city could help them improve their operations.
But some city officials see "risks" in greater transparency — in particular, the possibility that plaintiffs' attorneys will gain an advantage and extract even more payments from the city.
Directors and top administrators of subway departments were interviewed as part of a special report on urban settlements by the Subway Internal Audit Bureau that was released last month. The report examined the use of legal claims and lawsuit data to inform policy and process improvements.
The idea is to uncover simple changes that could reduce Metro's liability.
"For example, if we have a lot of workers' compensation settlements where someone regularly falls off a ladder, maybe that's the kind of ladders we buy," said Metro Council President David James.
An earlier WDRB investigation found that Metro Louisville has paid out more than $40 million in settlements since 2017, with most of the claims tied to the Louisville Metro Police. The WDRB's review found that Louisville's settlement payouts were significantly higher than comparable cities like Indianapolis, Cincinnati, Oklahoma City and New Orleans.
The city's audit department report showed that some department managers are not reviewing or receiving enough information to make changes. The most consistent way of disseminating claim information is through a quarterly budget report to the Metro Council. And what these leaders do next with the data varies. Most said they only review workers' compensation claims.
"It just seems to me that we could do a better job at the scale of metropolitan government," James said. "(Let's make sure) we have great training and hold people accountable and look at things that affect us through the civil justice system and try to do things to prevent that."
But not everyone agrees that the metropolitan government should have a systematic way to share information about legal claims.
According to the internal audit report, the metropolitan government's risk management arm expressed concern that the information was too widely available.
"The tracking and sharing of claims data within the Louisville Metropolitan Government presents risks that must be considered before any process is implemented," according to the report.
For example, creating an accessible report or database could expose "sensitive claims information" to the public through the open registration process or through city employees who would have access to it.
"Data about settlements and other claims in the hands of external parties may increase liability and the amount of future claims," ​​the report warns. "This information could serve as a guide to prosecute the Louisville Metro government."
The Metropolitan Government's Office of Budget and Management came up with an alternative idea: create a committee to analyze security issues and make process improvements.
"It is important to assess trends, regulations and incidents that come to our attention to help identify and guide areas for improvement," said Mayor Greg Fischer spokeswoman Jessica Wethington. "The mayor believes in transparency, but also appreciates the concern over access to information and the impact this may have on future litigation."
The statement stopped short of saying whether the administration would implement a process for using settlement data before Fischer resigns in January.
James said he understands those concerns, but it was paramount to narrow the city's legal claims.
"I don't want transparency to hurt the city's bottom line, but I think having that information for our political leaders in the executive branch would help tremendously," James said. "We're already north of $40 million, so I think the goal is to try to reduce that as much as possible."
Those who received payments from the city said accountability was lacking.
In January, Metro paid $1 million to MarySusan Ward, a former administrative assistant at the Department of Public Health and Welfare, to settle a seven-year lawsuit in which she claimed wrongful termination, retaliation and discrimination salary.
"It's like (the city) wouldn't recognize that they're doing something wrong," Ward said. "Money talks. … Don't treat me any different because of the color of my skin. … Nobody deserves that."
Ward's was one of 14 employment-related payments the city has made since 2017, costing taxpayers nearly $3.5 million in total.
Ta'John Ferguson said he was "disgusted" after being awarded $176,000 in a wrongful arrest case. He spent 10 months in prison after being wrongfully accused of robbery. In fact, he owned the Xbox gaming device he was accused of stealing. He had his receipt and was just trying to sell it to someone he met online.
Ferguson's payment is part of nearly $38 million the city has paid to settle claims against the LMPD.
"It changes you and makes you see life completely differently," he said. "The fact that they can do this and they don't have to answer for it – (there's) no accountability, like they're immune."
Louisville taxpayers are also more exposed to legal liability after the company that provided Metro government excess insurance coverage dropped out of the city last July. It came after paying, among other significant settlements, $5 million of the total $12 million paid to the family of Breonna Taylor, the woman who was shot and killed in her apartment in March 2020 while police were executing a warrant of search.
Despite disparate opinions within the Metro government on how to reduce legal liabilities, the rise in settlements has caused at least one change.
The LMPD backed its policy on when officers are allowed to chase away fleeing vehicles, reverting to a more cautious approach that was previously in place.
Former LMPD chief Steve Conrad relaxed the policy in 2019, allowing officers to pursue vehicles confirmed to be stolen.
The new policy, which took effect April 26 according to an internal memo written by Chief Erika Shields, is a return to a stance first taken in December 2012 to reduce deaths and injuries from lawsuits.
LMPD officers can now only prosecute suspects involved in a violent crime.
A January 2020 Courier-Journal survey found that after the policy was relaxed in 2019, police pursuits increased by 52%, seven people were killed and the number of injured more than doubled. In addition, lawsuits against the department were piling up.
Shields reinstated the stricter prosecution policy weeks after the city paid $850,000 to the family of 13-year-old Ki'Anthony Tyus. Tyus died after an accident at the end of a police chase. He was a passenger in the car.
Tyus' grandmother told the WDRB she was "devastated" after his death.
Copyright 2022 WDRB Media. All rights reserved.