Rate heckling – Markets and central bankers differ if rising inflation is transient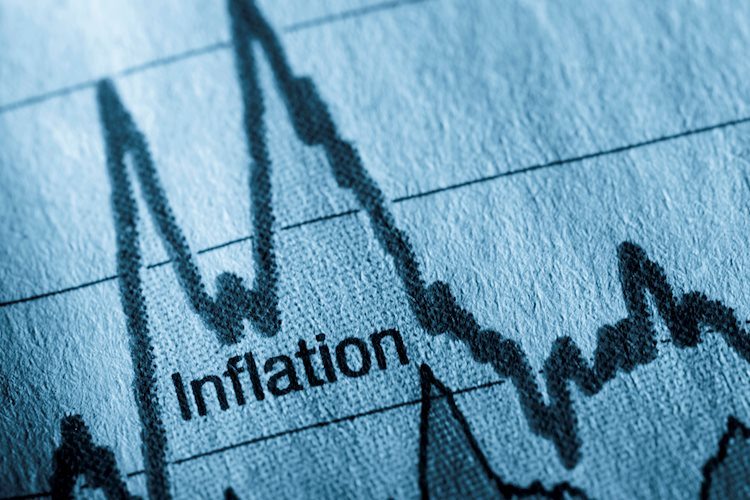 Remarks / Observations
– Markets remain focused on supply chain issues and energy shortages (raw materials, crude prices rose more than 1% to test 2018 highs); feeling of rising interest rates.
– Central banks trying to note market expectations are not that consistent with guidance.
– Chinese GDP in the third quarter is slowing and fears that the fourth quarter will slow even further due to the government's crackdown on the real estate sector and the power shortage.
– Reports on corporate earnings are expected to accelerate this week.
Asia
– (CN) China's Q3 GDP Q / Q: 0.2% vs. 0.4% e; Y / Y: 4.9% vs. 5.0% e.
– (CN) Retail sales in China in September Y / Y: 4.4% vs. 3.5% e.
– (CN) Industrial production in September in China: 3.1% vs. 3.8% e.
– New Zealand's third-quarter CPI data recorded its second consecutive reading above target, the fastest in 10 years (Q / Q: 2.2% vs. 1.5% e ; Y / Y 4.9% against 4.2% e.
– China PBOC Gov Yi Gang said that the national economy is "doing well", but facing challenges such as the risk of default for some companies due to "mismanagement"; the authorities were watching closely "so that they do not become systematic risks".
– China's National Bureau of Statistics (NBS) said it is striving to meet annual economic targets, reiterated the government's position that the domestic recovery was not strong and unbalanced, saw key economic data in a reasonable range for the first trimester to the third trimester.
– China tested its first nuclear-capable hypersonic missile in August.
– Japanese Prime Minister Kishida said he has no plans to change the consumption tax and could distribute funds quickly. The increase in the corporate tax rate must be carefully considered.
Europe
– BOE Gov Bailey said he had already signaled that we need to act to fight inflation; Upcoming action in our monetary policy meetings.
– ECB chief Lagarde reiterated the ECB's position to continue supporting the economy in order to stabilize inflation on a lasting basis at the inflation target of 2% in the medium term. The Council reiterated the view that the current surge in inflation is seen as transitory and unlikely to last. The ECB was paying close attention to wage negotiations and other potential second-round effects that could push prices up permanently.
– The ECB said it was examining the possibilities of increasing its limit on purchases of bonds issued by the EU. The move would be seen as an improvement in the flexibility of asset purchase programs and an improvement in the status of the bloc's common debt program launched this year.
– BCE's Knot (Netherlands) reiterated the ECB's position that the current rise in inflation was seen as essentially transitory, but must consider whether the rise in inflation is temporary and whether it has become a risk having side effects. He also noted that he has seen interest rates rise once central banks begin to unwind their stimulus programs in the first half of 2022.
– The UK Treasury said it is speeding up preparations for a new e-commerce tax, while reviewing details and the final decision on implementation, the final decision is not expected to be made.
Speakers / Fixed income / FX / Commodities / Erratum
Actions
Indices [Stoxx600 -0.40% at 467.52, FTSE -0.18% at 7,220.86, DAX -0.49% at 15,510.40, CAC-40 -0.76% at 6,676.63, IBEX-35 -0.09% at 8,988.50, FTSE MIB -0.68% at 26,309.00, SMI +0.04% at 11,966.43, S&P 500 Futures -0.37%].
Market focal points / Key themes: European indices opened lower overall, but retraced some of the losses as the session progressed; sectors among those with a higher trend include energy and materials; while sectors lagging behind include consumer discretionary and real estate; Gazit-Globe to acquire Atrium European Real Estate; Siemens to separate from its large drive applicator division; Playtech receives takeover offer from Aristocrat; AstraZeneca speaks out against TRC's "mini-tender"; it would appear that Richemont is looking to sell Yoox-Net-A-Porter; earnings expected in the next US session include State Street, Apple and Steel Dynamics.
Actions
– Consumer discretionary: Stellantis [STLA.IT] -1% (JV on lithium).
– Health: Valneva [VLA.FR] + 32% (positive vaccine data), Reference titles [BMK.UK] + 14% (trading update), Koninklijke Philips [PHIA.NL] -1% (gains).
– Materials: Umicore [UMI.BE] -5% (perspective down).
– Technology: Playtech [PLAY.UK] + 58% (to be acquired).
– Public services: National network [NG.UK] + 1% (trading update).
Loudspeakers
– ECB Visco (Italy) said it was certain the price pressures at the moment came from bottlenecks and energy, but reiterated the ECB's view that the hike is considered transient but would take time. The ECB Council reiterated the view that second-round effects were not considered relevant at this stage. ECB policy reiterated to remain accommodating. The ECB could end up raising the limits of international bonds but this is not currently under discussion. Noted that market expectations were not so consistent with ECB guidance (** Note: markets are currently anticipating a 10 basis point hike from the ECB in November 2022).
– BCE (Slovenia): reiterates the ECB Council's position that high inflation results from temporary factors.
– France End Min The Mayor noted that rising energy prices could affect growth and tax revenues.
– Austrian Debt Agency (AFFA) reduced emissions planned for 2021 from 45 to 40 billion euros.
– EU Foreign Policy Chief Borrell said no confirmation of talks with Iran on Thursday, October 21, but was optimistic about preparatory meetings in the coming days.
– McGuinness, Head of EU Financial Services reportedly promised to avoid market instability or a "cliff edge" on a decision on the ability of European banks to access UK clearing houses.
– Russia Fin Min Siluanov said fiscal normalization would ease inflationary pressures.
Currency / Fixed Income
– Yields continued to be the focus of FX discussions with the debate raging over whether the recent rise was temporary or not.
– GBP / USD was old and held above 1.37 after BOE Governor Bailey said over the weekend that the central bank "should act" to curb price pressures despite rising inflation probably temporary. UK 2-year government bond yields rose more than 15bp towards the 0.75% area (the biggest increase since 2010) while 10-year Gilt yields rose more than 5bp to approach 1.16%. Focus on UK CPI data to be released midweek (Wednesday).
– EUR / USD returns to the 1.16 level as various members of the ECB try to minimize the pickup in recent inflation data. Money markets are pricing the ECB to rise 10 basis points in September 2022. ECB's Visco noted that market expectations were not so consistent with ECB guidance.
Economic data
– (CZ) Czech Seven Industrial PPI M / M: 0.7% against 0.7% e; Y / Y: 9.9% against 9.9% e (highest annual rate since March 1993).
– (CH) Total Swiss weekly sight deposits (CHF): 714.3B against 714.1B previously; National sight deposits: 640.2 billion against 638.4 billion previously.
Fixed income
– (NO) Norway NOK 2.0 billion sold compared to NOK 2.0 billion shown in 6-month invoices; Average return: 0.37% against 0.21% previously; Bid-to-cover: 2.13xv 3.01x front.
Look ahead
– (SK) Slovakia Debt Agency (Ardal) to sell 2024, 2030 and 2036 bonds.
– 5:25 am (EU) Daily liquidity statistics from the ECB.
– 5:30 a.m. (DE) Germany to sell $ 6.0 billion in 6 and 12 month BuBills.
– 5:30 am (NL) The Dutch Debt Agency (DSTA) will sell between 3.0 and 5.0 billion euros in 3- and 6-month bills.
– 5:30 AM (ZA) South Africa announces details of upcoming I / L Bond sale (held on Friday).
– 6:00 a.m. (IL) Israel will sell ILS1.2B Combined Bonds in 2024, 2026, 2032 and 2051.
– 6:45 am (US) Correction of the daily Libor.
– 6 a.m. (RO) Romania sells 2029 and 2030 bonds.
– 07h00 (TR) Turkey to sell Zero 2022 bonds.
– 07:25 (BR) Weekly survey of economists at the Central Bank of Brazil.
– 08h00 (PL) Poland Seven CPI Core M / M: 0.6% ev 0.2% before; Y / Y: 4.1% ev 3.9% before.
– 08h00 (UK) Daily Baltic Dry Bulk Index.
– 08:00 (IN) India announces details of next bond sale (held on Friday).
– 08:00 (ES) Announcement of the size of the Spanish Debt Agency (Tesoro) on the upcoming show.
– 08:15 (CA) Canada Sept Annualized starts: 256.5Ke v 260.2K before.
– 08:30 (CA) Canada August International Securities Transactions (CAD): No is v 14.2B before.
– 9 a.m. (FR) The French Debt Agency (AFT) will sell € 5.6 billion to € 6.8 billion in 3-month, 6-month and 12-month bonds.
– 9:15 am (United States) Sept Industrial production M / M: 0.2% ev 0.4% before; Capacity utilization: 76.5% ev 76.4% forward; Manufacturing production: 0.1% ev 0.2% before.
– 9.45 a.m. (UK) BOE buys £ 1.147 billion as part of the Gilt APF (3-7 year) deal.
– 10:00 (US) October NAHB Housing Market Index: 75th v 76 before.
– 10:30 am (CA) Bank of Canada (BoC) Third quarter overall business outlook survey: none is v 4.2 before; Business outlook Future sales: No is v 47 before.
– 10:30 am (UK) BOE Cunliffe.
– 11:30 am (US) The Treasury will sell 13 and 26 week bills.
– 2:15 p.m. (US) Fed Kashkari.
– 3:00 p.m. (AR) Argentina August Capacity utilization: No estimate compared to 64.1% previously.
– 4:00 pm (US) Aug Total ICT net flows: none is vs. $ 126.0 billion previously; Long-term net ICT flows: none compared to $ 2.0 billion previously.
– 4:00 p.m. (US) Weekly crop progress report.
– 18:30 (AU) Australia ANZ Roy Morgan Weekly Consumer Confidence Index: is not v 105.6 before.
– 8:30 p.m. (AU) RBA October Minutes.
– 11:00 p.m. (TH) The Central Bank of Thailand will sell THB 50 billion in 3-month bills.
– 11:30 p.m. (HK) Hong Kong to sell 3 and 6 month coupons.
– 11:30 p.m. (JP) Japan to sell 12 Month Vouchers.
– 11:30 p.m. (JP) Japan sells 20-year JGB bonds.