NamesCon Global Accepting Domain and NFT Submissions for Live Digital Asset Auction September 1, 2022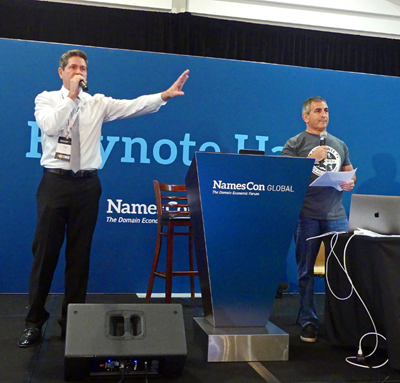 When the NamesCon Global the conference returns this summer with a in person format for the first time in over two and a half yearsa highlight will be the long-awaited return of the show premium domain auction in front of a live audience. The big event will take place on Thursday, September 1st, 2022
from 3 p.m. (CDT) at Omni Hotel in Austin, TX. The actual conference will begin there on August 31 and continue through September 3.
A lot has changed since the last such auction (also held at the Austin Omni on January 30, 2020). One of the biggest changes was the appearance of NFT collectibles. NamesCon recognizes this development by expanding its traditional domain sale to a Digital Asset Auctions which will feature select NFTs (valued at $5,000+) alongside approximately 150 premium domain names.
Auctioneer Wayne Wheat (left) and To the right of the dot
President Monte Cahn lead the
NamesCon Global
Live Domain Auction in Austin, TX January 30, 2020.
Above:
Part of the crowd at the NamesCon Global 2020 live domain auction.
Below:
World champion auctioneer Wayne Wheat leads the action-packed 2020 auction.
One thing that won't change this year RightOfTheDot.com
will lead the big event again with the president of ROTD Mount Cahn at the helm and world champion auctioneer Wayne Wheat call the action. ROTD now has open submissions for the auction so, if you have leading assets you would like to have considered for sale, it's time to send them. Keep in mind, quality is going to be the overriding factor in what is selected for the auction catalog. ROTD provided these submission criteria:
1 to 4 numbers (like 123 com)

1 to 4 letters (like abc com)

1 word (with meaning)

High traffic English keywords and terms/words

.com, .net, .org (bidding will focus on premium .com names, but other TLD extensions will be considered)

Standard renewal price domains (no premium or tiered renewal fees over $100 per year)
The deadline for submission is August 12, 2022.
You will find all the details on the bidding and submission process here.
We look forward to seeing you in Austin this summer (registration
is open now) and if you can't be there, this is the place to come for wall-to-wall coverage of the show!