Investors seek safe havens amid rising volatility during Lipper fund flow week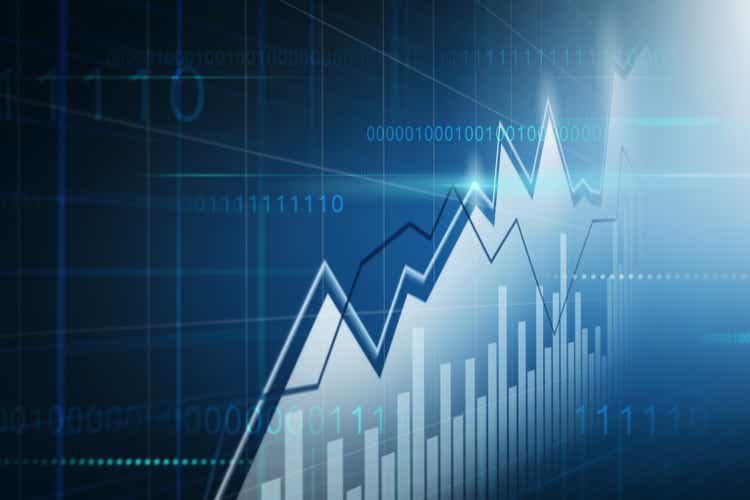 For the week of Refinitiv Lipper fund flows that ended on Wednesday, April 27, investors turned to equity mutual funds and ETFs, redeeming $7.6 billion and $1.2 billion, respectively. dollars.
The average equity fund (including ETFs) suffered a drop of 6.17% for the week, its biggest one-week drop since the end of the cash flow week on March 25, 2020 – just after California became the first state to issue restraining orders to home to fight the spread of the novel coronavirus.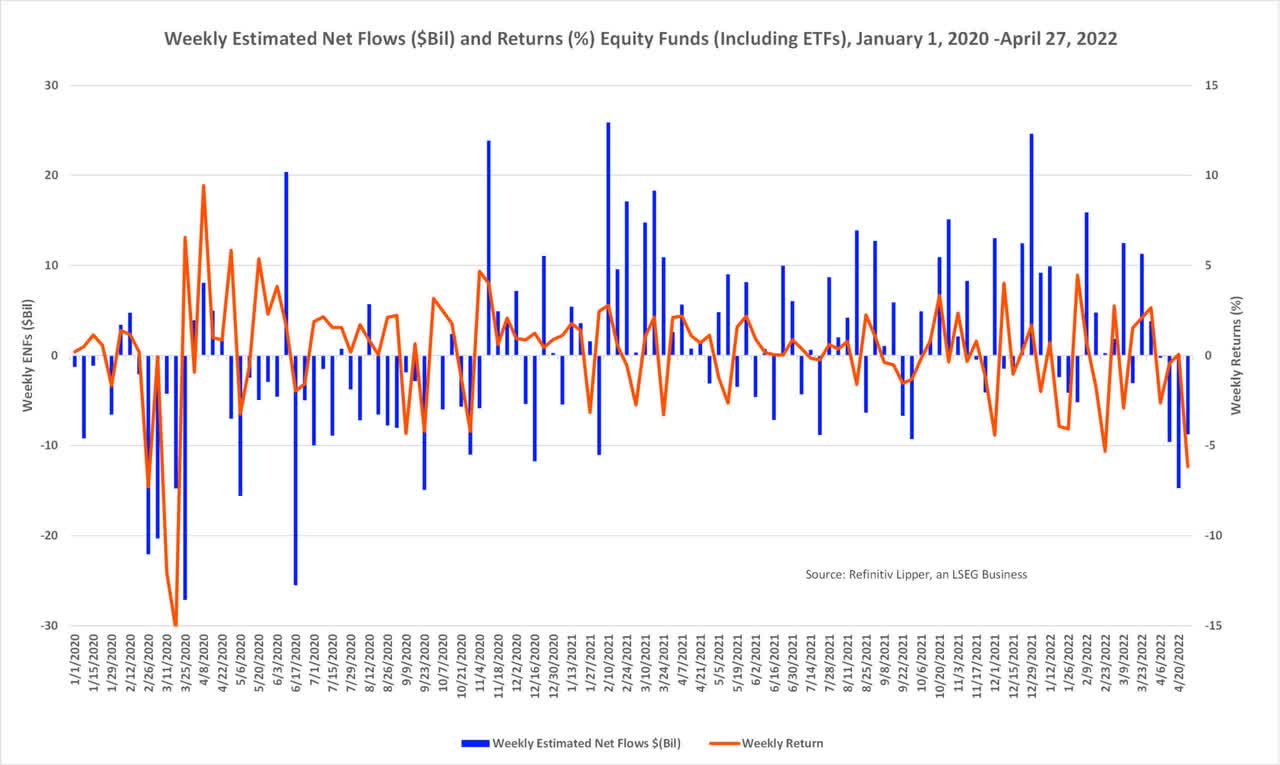 Stocks fell during the week of cash flows as investors weighed the implications of aggressive interest rate hikes by the Federal Reserve, Russia continuing to wage war on Ukraine, prolonged disruptions to the supply chain and another COVID-related shutdown in China.
Investors generally fled long-term assets, filling the coffers of money market funds (+$40 billion) after Federal Reserve Board Chairman Jerome Powell gave his support for a hike faster interest rates to avoid rising inflation. Powell said, "It's appropriate in my view to move a little faster," hinting at a potential 50 basis point (bps) hike in May.
During the week, the Dow Jones Industrial Average suffered its biggest one-day percentage decline since October 28, 2020, dropping 981.36 points (or 2.8%), after another round of corporate earnings of the first trimester generally disappointed. The CBOE Volatility Index (VIX) closed the week of fund flows at 31.6, beating its long-term average by just under 20. Year-to-date, the average equity fund is down 11.74%.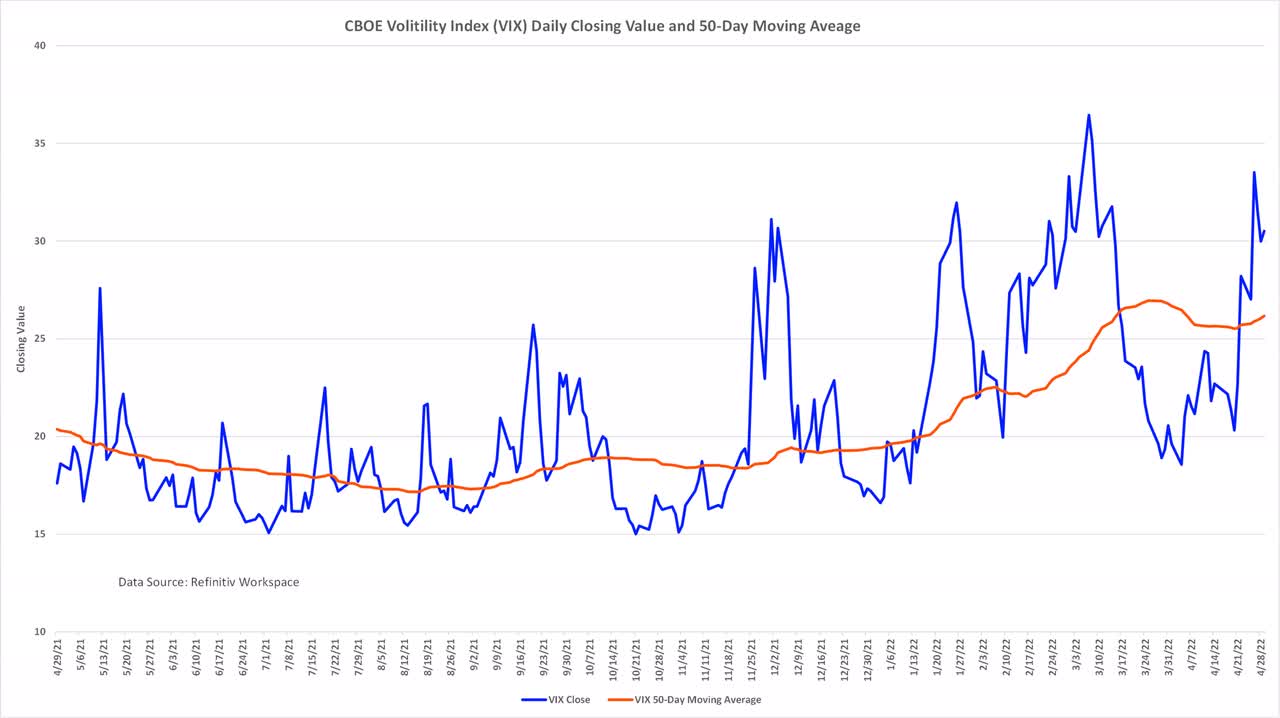 Nonetheless, during the week investors – while net buyers of equity funds and ETFs – were net buyers of certain classifications, with leveraged funds attracting the largest net amount of fresh money, taking in $1.4 billion for the week of cash flows.
ProShares UltraPro QQQ (TQQQ) drew the highest net inflows in the rating, pulling in $939 million. Equity income funds (+$1.3 billion) and consumer goods funds (+$1.2 billion) attracted the second largest amounts of new money, while services funds financials (-$2.2 billion) lagged in the classification of the equity universe.
Interestingly, while – as might be expected during a market meltdown – funds dedicated to short bias (+12.13%, including ETFs) posted the strongest returns of the 82 classifications of Lipper shares for the week of fund flows. They actually saw net outflows to the tune of $896 million, as investors appeared to steer clear of the heightened volatility – in both directions.
Amid the week's carnage, the DJIA saw its biggest intraday reversal since February on Monday, April 25, as investors appeared to brush off weakness related to China's new COVID lockdowns and focus on oversold issues.
As investors look for places to hide in this bumpy market – other than money market funds – interest in alternative funds is on the rise, long/short equity alternative funds (including ETF) attracting the largest sum of net inflows into the macro group.
The classification recorded $548 million this week and had its seventy-first straight week of net inflows, followed by equity market-neutral alternative funds (+$209 million), alternative managed futures funds ( +$182 million) and event-driven alternative funds (+$104 million).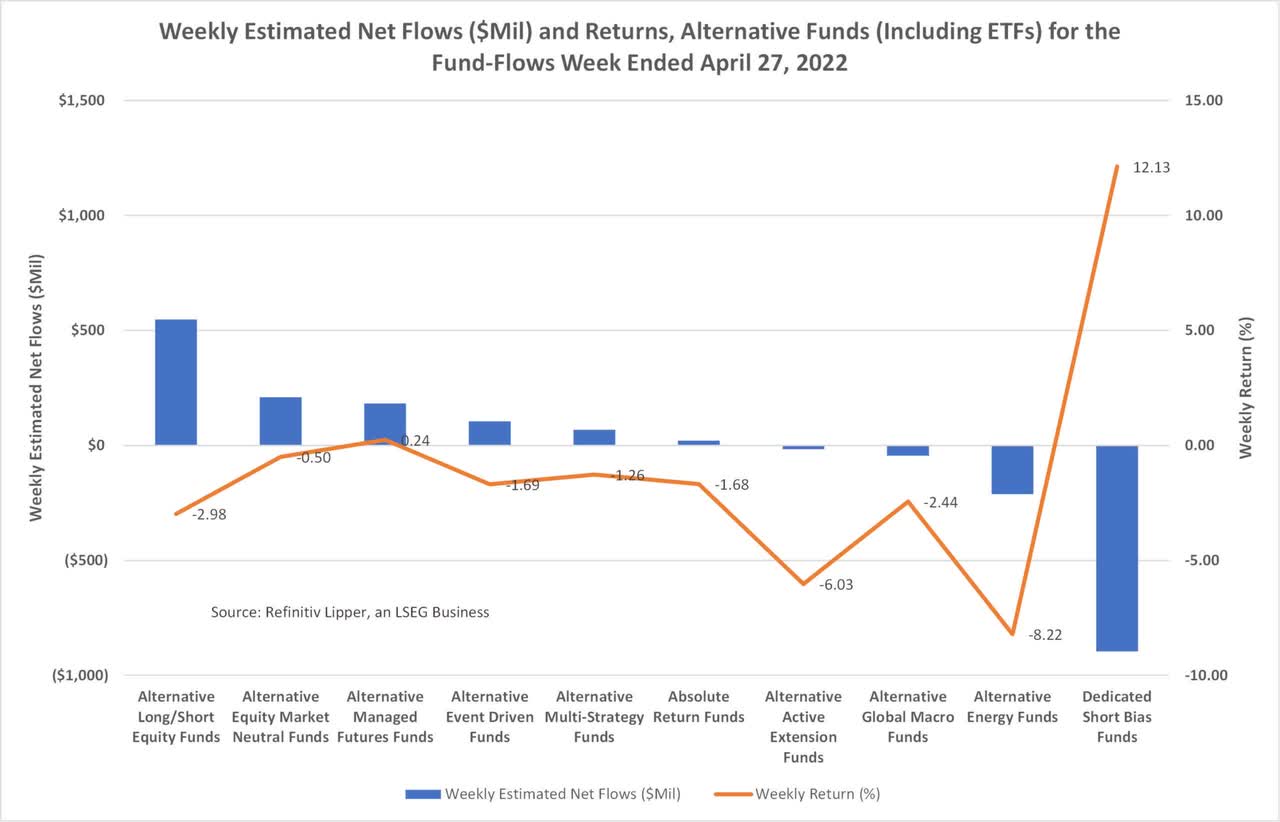 The main asset attractors for investors in the Alternative Long/Short Equity Funds classification last week were JPMorgan Hedged Equity 2 Fund, Class R6 (JHDRX), pocketing $194 million, Global X NASDAQ 100 Covered Call ETF (QYLD+$124M), Global X S&P 500 Covered Call ETF (XYLD+$114M), and Global X Russell 2000 Covered Call ETF (RYLD+$37 million).
Despite the prospect of impending increases in the Federal Reserve's key rate, investors continued to bail out the coffers of longer-dated Treasuries and investment-grade debt funds, general U.S. Treasury funds (+2, $0 billion) attracting the largest net money for the week of flows, followed by short-term US Treasury funds (+$1.5 billion), BBB-rated corporate debt funds (+ $1.1 billion) and Loan Participation Funds (+$667 million).
Meanwhile, Core Plus bond funds saw the largest net redemptions (-$1.9 billion). The average bond fund (including ETFs) posted a loss of 1.13% in the week of fund flows.
Whether they focus on equities or fixed income – and both asset classes have suffered declines of 11.74% and 6.69% respectively since the start of the year – all eyes will be on. turned to the meeting of the Federal Open Market Committee next week. Scheduled to begin on Tuesday, May 3, most analysts expect the Fed to enact at least a 50 basis point hike in the fed funds rate and perhaps even announce the start of its balance sheet unwind.
Original post
Editor's note: The summary bullet points for this article were chosen by the Seeking Alpha editors.