Fiscal consolidation strategy, cutting spending, could turn out to be a costly miscalculation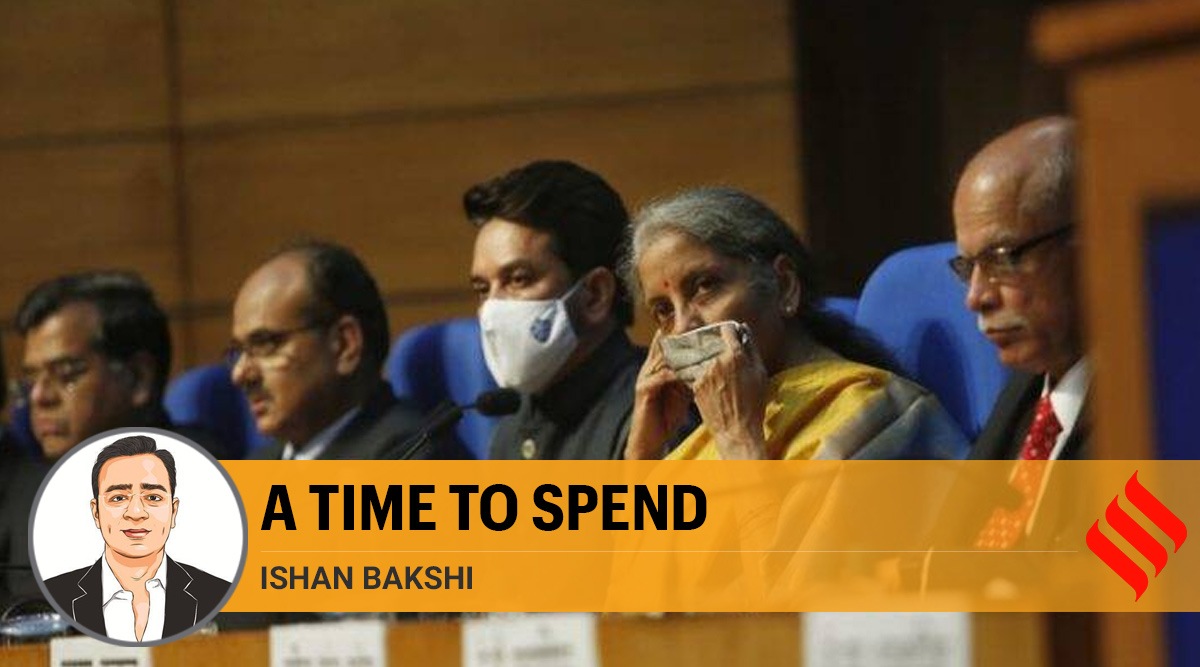 It was no ordinary year. Faced with the management of the economic fallout of a single crisis in a century, the expectations vis-à-vis the Union budget were of a whole different order of magnitude. The challenge for the finance minister was how to increase public spending, without raising taxes, while taking a credible path to fiscal consolidation.
It seems that expectations of a faster recovery of the formal economy in 2021-2022 and concerns about high debt levels seem to have convinced the government not to opt for aggressive spending now, but to focus on consolidation. This could turn out to be a costly miscalculation. The economic outlook is not as optimistic once the base effect-induced growth rebound next year wears off. The roadmap drawn up by the 15th Finance Committee indicates this possibility. Nominal GDP growth is expected to slow from 13.5% in 2021-2022 to 9.5% in 2022-2023, implying real GDP growth of only around 5%.
By then, the side effects of job and income losses and weak balance sheets will likely have made their way through the system.
And given that economic growth had slowed sharply to 4% even before the pandemic – calls were also made to increase government spending at that time as well – if growth can return to around 7% ( what the Finance Committee expects) or 8% by 2025-2026 (what the government expects) is debatable.
Thus, what is critical is not only the fiscal stance of public administrations (central and states) in the immediate but also in the medium term. The risks of too much consolidation too soon, to the detriment of medium-term growth prospects, could end up being counterproductive for both growth and debt sustainability. The budget, as well as the report of the Finance Committee, offer some clues on the way forward.
So, has the central government abandoned, even belatedly, its budgetary conservatism for the time being? Not enough.
The Centre's total spending in 2020-2021 is expected to increase by Rs 4.08 lakh crore from its previous estimate. Much of this, as has been pointed out, is due to higher grant payments, as well as higher expenses for MGNREGA and others. But the medium-term budget statement notes that among the revised food subsidy allocations for this year, Rs 1.5 lakh crore is for early repayment of outstanding food subsidy loans from the Food Corporation of India. Another crore of Rs 62,000 would go to pay fertilizer subsidies. This amounts to Rs 2.1 lakh crore.
While this increased transparency in the accounts is welcome, it only erases the sins of the past. It is not a stimulus on the demand side. This is the payment for goods already consumed. Taking this into account, the difference between what the Center planned to spend if 2020-2021 was a normal year and what it will spend in a pandemic year comes down to less than Rs 2 lakh crore or around 1% of GDP. . Excluding these payments, the public expenditure / GDP ratio is around 16.6% for 2020-2021.
Next year, the Centre's spending will not even keep pace with nominal GDP growth, let alone exceed it. In fact, the expenditure-to-GDP ratio falls to 15.6% in 2021-2022. In addition, as next year's figures also include allowances for the settlement of FCI dues (around Rs 70,000 crore), expenses (excluding these payments) will be even lower at 15.3 percent of GDP. This means that the size of government is actually shrinking. The aggressive fiscal consolidation over the next year has been ensured by spending cuts.
It would appear that the government is hoping that the shift in spending in favor of capital spending will help offset this – the multipliers for capital spending are considerably higher. But it was crucial to maintain, if not increase, public spending, especially for programs like MGNREGA during these years, giving a positive boost to the economy when it was needed most.
Where the government has succeeded is in avoiding aggressive tightening in the medium term. The timid allegiance to the 3% budget deficit target – the elusive target was last met in 2007-08 – has simply been abandoned. The new roadmap for fiscal consolidation of 4.5% by 2025-2026 (similar to the path recommended by the committee if the recovery is slower than expected) is perhaps as good as an admission as the Economic fallout from the pandemic will spread over several years, higher levels of government spending will be required. Adopting this relaxed consolidation roadmap also creates space for the Center to spend more in the run-up to the next general election.
But the luxury of delaying fiscal consolidation has not been extended to state governments. They are expected to reduce their deficits to 2.8% of GDP by 2023-24, from 4.2% in 2020-2021. Considering that state governments should actually drive general government investment spending in the medium term, a more flexible roadmap was warranted. State governments are expected to achieve a revenue surplus of 2.4% of GDP by 2025-2026. In addition to a budget deficit target of 2.8 percent, this effectively means that states will allocate about 5.2 percent of GDP to capital spending. In comparison, while the Centre's budget deficit is set at 4.5% of GDP by 2025-2026, around 60-70% of its borrowing will be used to finance revenue and not capital expenditure.
The more flexible fiscal consolidation roadmap recommended by the Finance Committee, coupled with the Union budget, suggests that the general government deficit will fall from 13.7% of GDP in 2020-2021 to 10.1% in 2021-2022 (a decrease of 3.6% of GDP points in one year) then to 7.3% by 2025-2026 (a decrease of 2.8 percentage points over four years). Thus, aggressive consolidation next year will be followed by a more relaxed decline thereafter, rather than the other way around.
Given the very uneven nature of the economic recovery, there was a strong case for increased public spending now, for the allocation of more resources to improve the condition of those at the bottom. of the income scale. This political position was required at all levels of government. Few would have criticized governments for spending more to offset the effects of a single crisis in a century. There is a time for aggressive consolidation. It was not this.
This article first appeared in the print edition on February 9, 2021, under the title "Un temps à passer". [email protected]